Drive X RV by weBoost Amplifies Your Cellular Signal
Last Updated on December 9, 2020 by Jody
RVing is fast becoming one of the most popular ways to travel. You have all the comforts of home – a bed, kitchen, bathroom, even a comfy couch in most motorhomes- with the flexibility to go nearly anywhere 4 (or 6 or 8) wheels can take you.
But those comforts of home are often missing one thing you take for granted when surrounded by 4 permanent walls – a stable internet connection.
Why Do You Need to Stay Connected When Traveling?
My husband and I are both blessed with jobs that can be done remotely – his for an international IT company, mine as a freelance writer. While our now-teen daughters' schedules don't allow us the flexibility we once had, you can be sure that we take advantage of any getaways we can.
Our trips are often a combination of work and play.
My job requires me to be connected to email and social media a few times a day while my husband needs to be able to connect at a moment's notice if he is needed.
But, more than that, having a reliable mobile connection is a safety necessity. If we were to have an accident – or even just blow a tire- on a long, lonely section of highway a single bar of service could make the difference between quick assistance and hours of waiting.
Drive X RV by weBoost
My husband and I had been looking into cellular signal boosters for the RV for a few weeks when I was offered the opportunity to try the Drive X RV by weBoost.
And I had the perfect destination in mind to test it – Door County, Wisconsin.
I had visited Door County nearly a year ago (solo) and really enjoyed both the area and my stay in a yurt at Wagon Trail Campground. So I made plans to return with my RV- and my family. But my husband had to have a reliable internet connection and I knew that the campground, the most northerly one on the peninsula, had spotty cellular connectivity.
What is A Cellular Signal Booster?
Also called a cell phone reception amplifier, this is usually a repeater system that consists of three main components: an exterior antenna, an amplifier, and an interior antenna.
The purpose of a cellular signal booster is to take the existing cellular signal around you and amplify it. The amplified signal is then rebroadcast into the area (your RV) with weak signal or no reception. This results in a 'boosted' cellular reception, more bars on your phone or mobile wifi device, clearer calls and stronger data.
Unboxing Drive X RV Cell Signal Booster
This is a substantial bit of equipment. While each piece itself is not large, the box it all comes in is nearly one foot wide by two feet long and weighs just over 7 pounds!
Inside the box you will find the three main components- the Drive X booster, the outside antenna, and the inside antenna. Also included is everything you need to mount, power, and otherwise hook up the system.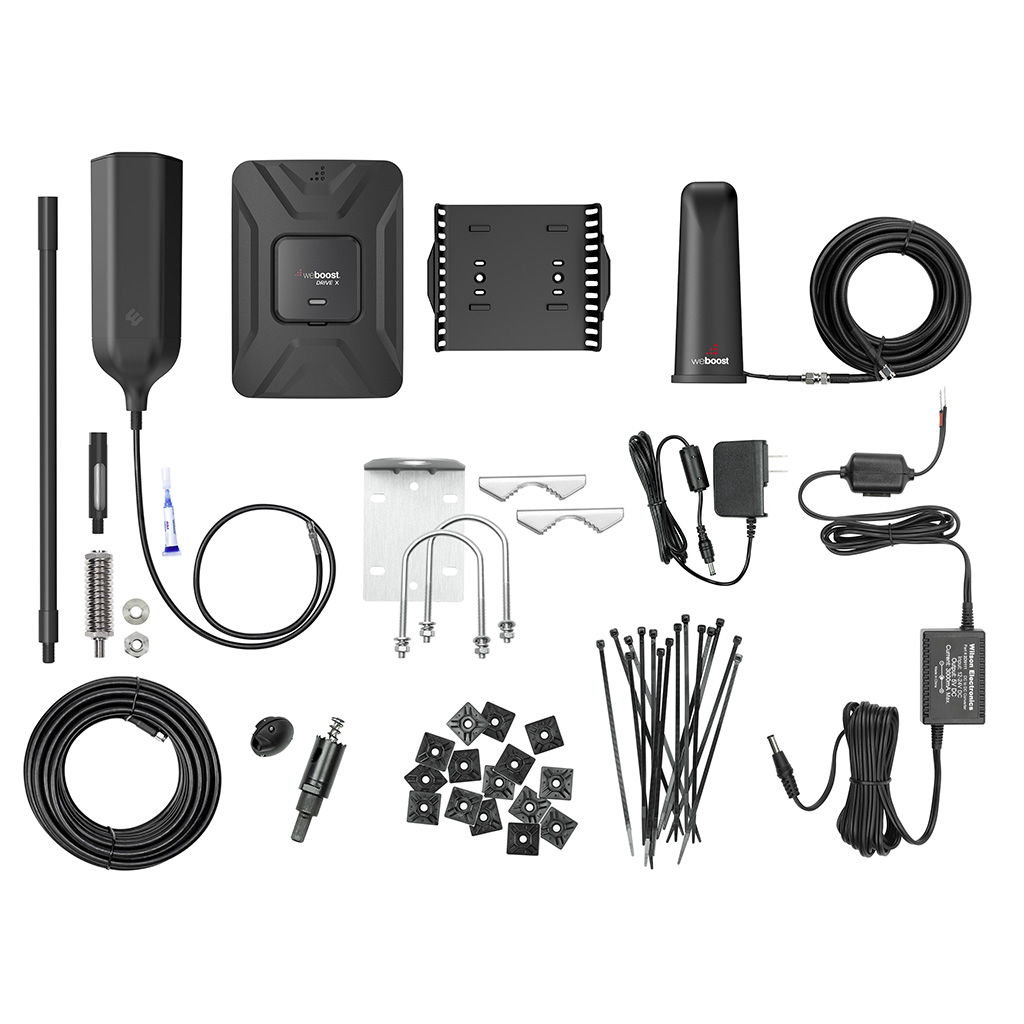 Setting Up Drive X RV
The user manual was very easy to understand and setup was relatively quick.
That said, we did NOT fully install the unit. Because we like to be a bit more 'fluid' in our workstations when we travel we reposition the unit based on our needs – in the RV or outside, depending on where we choose to work. While this is a bit more hassle than it would be to install once, we found that the boost did not extend outside the RV when it was placed inside.
If you prefer to work inside I would definitely do a full installation, making sure the inside booster is as near to your preferred workstation as possible – probably no more than 5-7 feet away.
And, unless you're a really handy type, I would pay to have the installation done professionally. I know I can't imagine messing with slide seals or drilling a hole in my RV!!!
Our Opinion of the Drive X RV
As I mentioned earlier, the cellular signal at the northern tip of Door County is very weak. Without the cellular booster we were lucky to pick up a weak bar- if we stood in just the right place at the correct angle.
While the Drive X RV didn't give us speeds suitable to stream videos (which is what my kids think data was created for), it gave my husband enough signal strength to take part in video meetings for work – though it did lag a bit- and allowed me to send articles and images to my clients as well as respond to emails.
Overall we were quite pleased with the unit and look forward to the freedom of more remote trips with the ability to stay connected if we choose to!