3 Types of KOA Campgrounds & What to Expect at Each
Last Updated on April 13, 2021 by Jody
Booking a camping stay at KOA offers endless possibilities. With more than 500 locations in the United States and Canada, Kampgrounds of America (KOA) is the leader in outdoor hospitality.
There are many campground choices around the world. What many campers love about KOA camping is the consistency from one campground to the next. Within the KOA brand, highly recognizable thanks to the bright yellow sign, there are three different types of campgrounds. In this article, we can help you learn the difference and choose the right KOA Campground for your family.
Types of KOA Campgrounds
KOA currently has three different types of campgrounds that fall under the Kampgrounds of America brand. These campground types are KOA Journey, KOA Holiday, and KOA Resort.
While all of the KOA campgrounds offer consistent amenities such as hot showers, dog parks, and RV sites, there are a few differences between each of them.
What to Expect at KOA Journey Campgrounds
Found in 42 states, KOA Journey Campgrounds are known to be conveniently located near major highways so they're easy to access from the road. Besides easy-to-access locations, Journey Campgrounds also offer the following:
Large RV Pull-thru sites that can accommodate large RV's
Various tent sites with level ground and access
Easy check-in service for late arrivals
KOA Journey Campgrounds are a handy stopping point in route to your destination. Lacking some of the amenities found at other KOA campground types, KOA Journey Campgrounds are best suited for quick, overnight stays when you need a break from driving on a long road trip.
What do campers love most about staying at a KOA Journey Campground?
A KOA Journey campground is a great solution for campers who need a safe, secure, and affordable place to stay for the night. Convenient locations and a simple process for late check-ins make it easy for road-weary travelers to get some rest.
What to Expect at KOA Holiday Campgrounds
KOA Holiday campgrounds are meant to be a destination for traveling campers. With many amenities for the whole family, these campgrounds are designed for longer stays than the Journey campgrounds, which offer no-frills overnight stops. Some of the amenities you can expect to find at a KOA Holiday campground include:
RV sites with large patios
Premium tent sites
Cabins and Deluxe Cabins for families and groups
Swimming pool
Upgraded tent sites
Group meeting facilities
When you're camping at a Holiday KOA Campground, you'll notice that there are several cabins and a larger tent camping area with upgraded tent spaces. You will also find family-friendly activities such as train rides, campfire s'mores, movies, ice cream socials, and so much more.
Many KOA Holiday campgrounds also have outdoor heated pools and playground areas where kids can burn off energy. With cabins, tent sites and RV sites, KOA Holiday campgrounds are perfect for multigenerational camping.
What do campers love most about staying at a KOA Holiday Campground?
One of the best aspects of this campground is that it offers so many family-friendly activities making it a real contender for a great camping vacation.
What to Expect at KOA Resorts
For the ultimate family camping vacation, KOA Resorts have everything you need to relax and enjoy your stay. In addition to all of the amenities you would expect to find at a KOA Holiday campground, KOA Resorts offer additional activities and amenities, such as:
Large RV sites with a spacious patio
Premium tent sites
Outdoor resort-style pool
Activity rentals, such as bicycles, ATVs or dune buggies
Restaurant on location
Meeting facilities for large groups
Deluxe cabins
Upgraded tent sites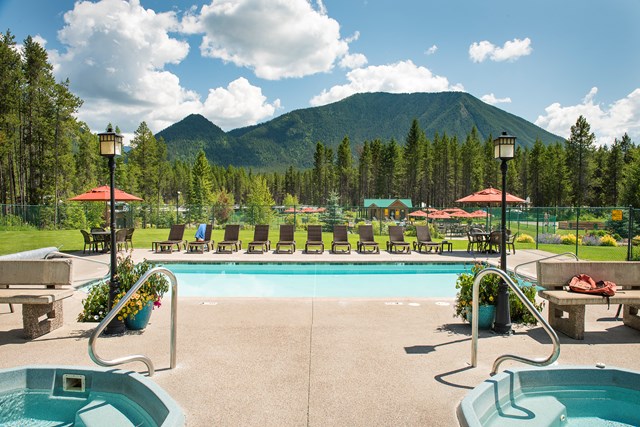 What do campers love most about staying at a KOA Resort?
KOA Resorts are truly a full service campground, offering campers the ability to pull in, set up camp, and stay put for a while. With enough amenities to keep you entertained on-site, you won't have to leave the campground at all if you don't want to!
Are KOA Campgrounds Free?
KOA Campgrounds are not free. In addition to the nightly rental fees, there are certain amenities that you'll be paying extra for as well. Renting bikes, participating in crafts, and some of the other kid's activities do cost extra money on top of your nightly rental fee.
Learn how to save money with the KOA Value Kard!
What is the Average Cost to Stay at a KOA?
KOA prices vary based on the type of campsite, the time of year, and the night of the week. Prices for an RV site at a KOA Campground range from $41 to $125 per night. Tent sites are the most affordable, with prices ranging from $25 to $80 per night.
KOA Cabin rentals are more expensive; you can expect to pay anywhere from $50 to $250 per night. Find out why KOA cabin rentals are so convenient!
How many KOA Campgrounds Are There?
KOA is the world's largest system of campgrounds in North America. There are currently over 500 KOA campgrounds in 47 states and ten Canadian provinces. No matter where your travels take you, you're never very far from a KOA campground.
Is It Cheaper to RV or Stay in Hotels?
There is no easy answer to this, as it truly depends on your travel style. There are many factors to consider when deciding between an RV and a hotel. Some factors to include are:
Fuel costs for an RV vs. a car
Nightly rental rates of a hotel vs campsite
Camping with pets? Don't forget to factor in hotel pet fees!
Eating out vs preparing your own meals
What is a VKR membership?
Travelers of all kinds love to join rewards programs where they are rewarded for their loyalty. KOA has VKR or Value Kard Rewards. For an annual fee, VKR members receive the following benefits:
10% off nightly rental rates
Reward points that you can use at a future time for your stays at KOA
Free night of camping during a special weekend
Exclusive offers and discounts from other companies
As you can tell, KOA offers different camping experiences and campgrounds for all types of campers. If you're looking for a camping adventure that will be safe, affordable, and fun, all of the various KOA Campgrounds are equipped and ready to make that happen.
Have you ever camped at a KOA before?
Save or Share This Article!
Use the handy share buttons to the left or the bookmarking tool in the lower right corner (requires sign in) to set up bookmarks of your favorite articles across the web!